Explosion Protected Crane Components (Certified according to ATEX)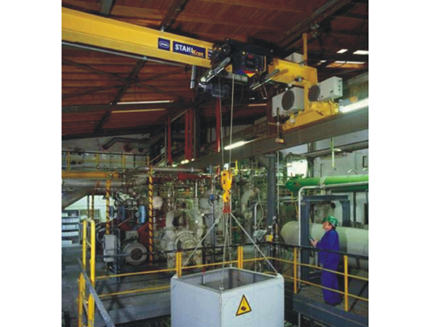 Hoist & Crane Control
The explosion protected crane controls are so-called 'divided controls'. The hoist and cross travel are controlled by panel box fitted with hoist. The long travel motion is controlled by separate panel box fitted on the bridge.

The transformers' contactors' fuses and tripping devices are installed in the flame-proof enclosed panel box (Ex 'd'). Connection to the terminal compartment (increased safety' Ex 'e') is by means of a single core bushing.
Control Pendant
The SWH 5ex control switches are specially designed for controlling hoists and cranes with contactor control and for use in hazardous areas.
• The contact elements are two step. This permits speedy changeover from 'fast to slow' and vice versa.
• The control pendants are equipped with a turn-to-reset emergency stop palm button.
Main Isolator
Main isolator ensures that the power supply from the mains is disconnected during maintenance work. Knob lockable in 'O' position with padlocks' with cable gland for round cable.

• Features
» End carriages and drives: The Ex Crane components listed here' as specified in EC directives 94 ⁄ 9 ⁄ EC' are designed for use in potentially explosive atmospheres in combination with gas or dust.
» The end carriages for modern suspension cranes (KEH ex) up to an SWL of 10000kg and span of 20m are available.
» The end carriages for modern single girder (KEH ex) and double girder (KZL ex) up to SWL of 50000kg and span of 30m are available. End carriage steel structures with high degree of geometrical accuracy.
» The wheels are spheroidal graphite cast iron. The excellent self-lubricating properties of the wheel material GGG 70 ensure a long service life of the wheel ⁄ runway systems.
» The crane connections use high-tensile bolt between crane girder and end carriage.
» Robust wheel drive with enclosed, grease-lubricated wheel gearing for lifetime.
» Motor insulation class F to VDE 0530 and are pole changing type for 2 travel speeds at 1:4 ratio. The standard travelling speeds are 10 ⁄ 40 or 5 ⁄ 20 m ⁄ min. Other speeds on request.
» Explosion-proof sliding rotor brake motor with conical brake and centrifugal mass. Smooth acceleration and braking characteristics. Very little noise due to helical gearing in all gear steps.